Professor Emerita of Linguistics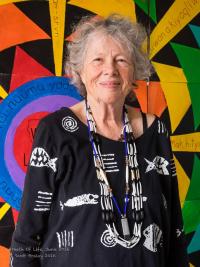 Email: lhinton@berkeley.edu
Leanne Hinton's recent research has focused on language revitalization of Native American languages.  She strongly supports interdisciplinary approaches to linguistics, and linguistic research that relates to community needs and interests, as well as to theory. Though retired, she remains active in research and consulting. Awards include the Lannan Foundation's Cultural Freedom Award (2006), the Linguistics Society of America's Language, Linguistics and the Public award (2012), The Hubert Howe Bancroft Award, presented by the Bancroft Library, UC Berkeley (2018), and the "Honored One" award, presented by the Association of Tribal Archives, Lubraries.
Selected publications
Relevant books
The  Routledge Handbook of Language Revitalization (with Leena Huss and Gerald Roche), (Routledge, 2018).
Bringing our Languages Home: Language Revitalization for Families

(Heyday, 2013)

How to Keep your Language Alive 

(Heyday, 2002)

The Green Book of Language Revitalization in Practice, ed. with Ken Hale (Academic Press, 2001)
Selected relevant articles
2018 "Approches to and strategies for Language Revitalization." In Kenneth L. Rehg and Lyle Campbell, 2018. The Oxford Handbook of Endangered Languages. Chapter 19: 443-465.
2016 Learning and teaching endangered languages. In Van Deusen, Nelleke and May, Stephen, editors. Encyclopedia of Language and Education. Vol 4. Second and foreign language education. Springer 1-11.
2016 Leanne Hinton & Barbara Meek. "Language acquisition, shift and revitalization Processes: United States and Canada. In Coronel-Molina, Serafin, and McCarthy, Teresa, eds. Indigenous Language Revitalization in the Americas. (Chapter 4). Routledge.
2015 "Education and language shift." In The Routledge Handbook of Educational Linguistics. Bigelow, Martha and Ennser-Kananen, Johanna, eds. Routledge. Pp 414-427.
2014 "Orthography Wars." In Cahill, Michael and Rice, Keren, eds. Developing Orthographies for Unwritten Languages. SIL International.
"Language revitalization and language pedagogy: new teaching and learning strategies",

Language and Education

 25 (2011) 307-318

"Revitalization of endangered languages", in Handbook of Endangered Languages (Cambridge University Press, 2011)
"Language revitalization in North America and the new direction of linguistics", Transforming Anthropology 18 (2010) 36-42
"Language Revitalization", in Handbook of North American Indians, vol. 2, Indians In Contemporary Society(Smithsonian Institution, 2008)
"The languages of California", in Vanishing Languages of the Pacific Rim (Oxford University Press, 2007)

"Learning and teaching endangered indigenous languages", in Encyclopedia of Language and Education (Springer, 2007)

"Racial nicknames and mascots for sports teams", News from Native California 19/2 (Winter 2005/06) 37-39
"How to teach when the teacher isn't fluent", in Nurturing Native Languages (Northern Arizona University Press, 2003)
"Language revitalization", Annual Review of Applied Linguistics 23 (2003) 44-57

Herb Luthin and Leanne Hinton, "

What Ishi's stories tell us about Ishi", in Ishi in Three Centuries (University of Nebraska Press, 2003)