Long time, no Calques! What have linguists been up to over winter break? 
Andrew Cheng took the runner up award at the LSA's Five Minute Linguist competition with his talk Style-shifting, Bilingualism, and the Koreatown Accent. A video recording of the entire event is on YouTube, and this link directs you to Andrew's talk (starting at around 19 minutes). Andrew also prepared to move to

 Philadelphia for the spring semester to teach two courses at his alma mater, Swarthmore College. He will return to Berkeley in the summer or fall!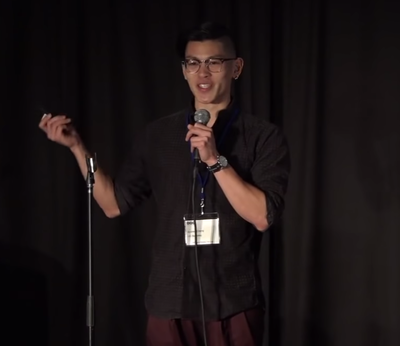 Emily Clem took her paper Cyclicity in Agree: Maximal projections as probes on the road, with colloquia at the University of Leipzig (IGRA) and the Hebrew University of Jerusalem. She then traveled to NYC for LSA, where she gave a shorter version of the same talk (which won 3rd place for the Student Abstract Award) as well as a joint talk with Virginia Dawson on Feature sharing and functional heads in concord: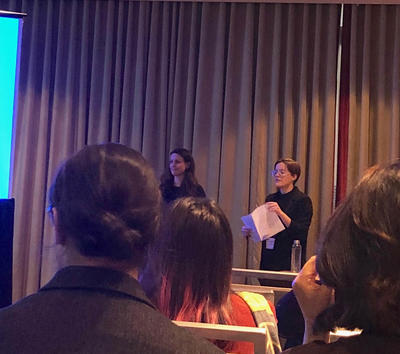 Virginia Dawson, in addition to the talk just mentioned, also gave a talk entitled Lexicalizing disjunction scope, after giving a festive welcome to 2019 with Tessa Scott, Jack Merrill (PhD '18), Myriam Lapierre, Zach O'Hagan, Emily Clem, and Nik Rolle (PhD '18)!
 
Amy Rose Deal traveled to Cambridge, MA, to attend a Radcliffe Exploratory Seminar on "What is good and what is possible? Searching for an interdisciplinary language".
Karee Garvin worked on her QP, went to Chicago for Christmas, traveled NYC for LSA (at which she gave 2 talks, one depicted below, and organized a special session on Inside Segments with Myriam Lapierre, Martha Schwarz, Ryan Bennett, and Sharon Inkelas), and wrapped up the break with a visit to Cambodia and Vietnam.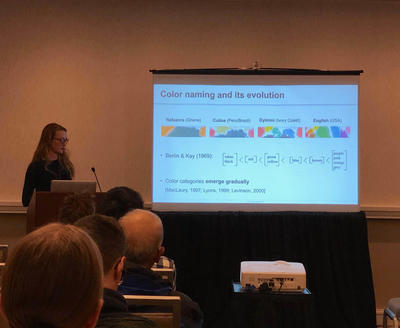 Dmetri Hayes spent part of his break skiing in France, and eating and walking around in Berlin, Helsinki, Stockholm and Barcelona, and along the way spent some time thinking about a computational semantics project to better leverage morphological information. 
Larry Hyman wrote a new paper on Causative and passive High Tone in Bantu: Spurious or Proto? and then turned to prepare the handout (and slides) for his Philological Society paper in London next month, entitled Functions of vowel length in language: Phonological, grammatical & pragmatic consequences. (Berkeley locals will get to hear a version of this work on February 11.) He then attended the LSA meeting in New York where he finished his final year on the Executive Committee and had a GREAT time hanging out with his most immediate former graduate students Florian Lionnet, Jack Merrill, and Nik Rolle, and crashing the Amazonianist dinner at a Brazilian restaurant organized by Myriam Lapierre.

Julia Nee traveled to Mexico to help with a language revitalization camp for kids in Teotitlán del Valle, Oaxaca. In the photo below, Julia works with students to read the book Beniit kon xpejigan ("Benita and her balloons") which was written collaboratively with Zapotec speakers Veronica Bazán Chávez, Trinidad Martínez Sosa, Isabel Lazo Martínez, Efraín Lazo Pérez, and Berkeley undergrad Celine Revzani who worked as an LRAP apprentice on the project in Spring 2018.
Tessa Scott gave a poster on Cyclic linearization and the conjoint/disjoint alternation in Ndengeleko at LSA!

Eve Sweetser traveled to Japan to give a three-lecture series on Figurative Language at the Tokyo University's Komaba campus.
  Did we miss you in this winter break linguist round-up? Let us know for next week's Calques!